University project wins Anti-Slavery Australia Freedom Award
Integrated Sustainability Analysis (ISA) group and the Sydney Institute for Astronomy (SIfA) have won the Innovation Award for the OAASIS project at the 2023 Anti-Slavery Freedom Awards.
Slavery is far from an issue of the past, with nearly 50 million people across the world living in conditions of modern slavery on any given day. The Global Slavery Index estimates 15,000 of these people are within Australia. Modern slavery can take many forms, for example, human trafficking, forced labour, debt bondage, and domestic servitude.
The Anti-Slavery Australia Freedom Awards are an opportunity to publicly recognise the vital contributions of individuals, organisations and businesses that are working to combat modern slavery and support survivors in Australia.
The Innovation Award was accepted on behalf of the of the OAASIS team by ISA Honorary Senior Research Fellow Dr Joy Murray, SIfA Postdoctoral Research Associate Dr Thor Tepper-Garcia, and former PhD student Dr Takako Wakiyama from the Faculty of Science and collaborator Carolyn Kitto (Co-Director, Be Slavery Free) at the award ceremony on 24 March.
"This award recognises the tireless efforts of our academics to solve one of the greatest challenges of our time, by making a meaningful contribution to the global understanding of modern slavery risks," said Esty Marcu, Director of the University's Modern Slavery Unit.
"We know that improved transparency is crucial to preventing modern slavery. We also know that supply chain transparency is a real and complex problem impacting business. Providing a freely available tool to map supply chain risks will provide an unprecedented level of supply chain transparency."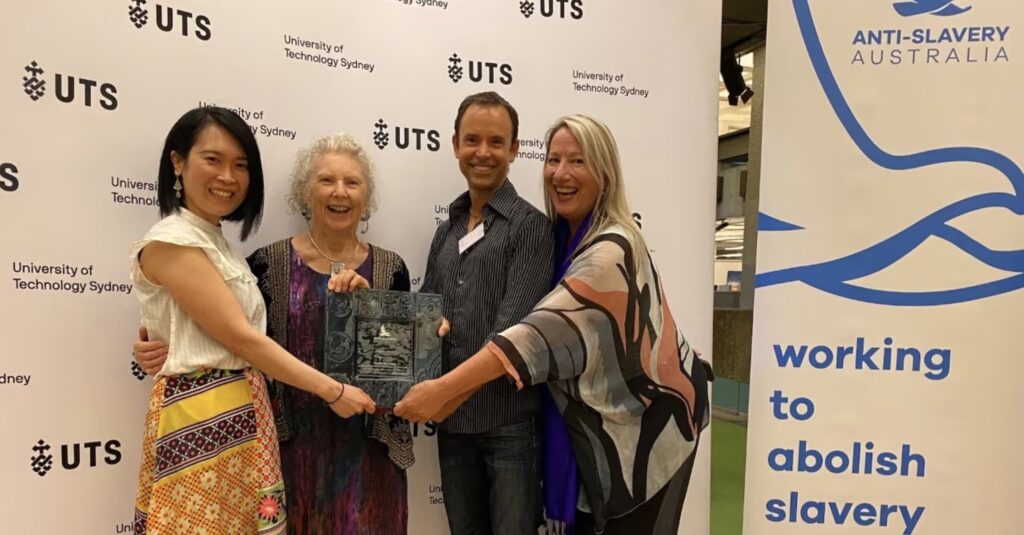 History of Open Analysis to Address Slavery in Supply Chains (OAASIS)
Australia's Modern Slavery Act 2018 requires large organisations to report on the risks of modern slavery in their supply chains and operations and the planned actions to address those risks.
However, research shows close to one in two entities (43%) fail to identify obvious modern slavery risks in their supply chain, despite sourcing from well-known high-risk sectors. Research by the University of Sydney also shows that the majority of ASX100 companies do not disclose actions to address risks beyond the first tier of their supply chain, despite strong evidence that modern slavery is more likely to occur further along the supply chain.
With a view to addressing this issue, in 2019 University staff from the Integrated Sustainability Analysis (ISA) group and Sydney Institute for Astronomy (SIfA) were awarded a $250,000 grant from the Physics Foundation's Grand Challenge program, enabling OAASIS to be created.
Ultimately, the OAASIS Project aspires to change the mindset and culture of global supply chain operators so that modern slavery becomes unthinkable in the modern world and to change the mindset of consumers so that producers are no longer rewarded for inaction on modern slavery.
The project uses a powerful economic database and data visualisation to map an organisation's supply chain.
"Just like we measure our carbon footprint as the headline indicator for climate change, we can analyse modern slavery as the headline indicator inequality," said Dr Murray.
"We know how to map carbon emissions and inequality as they snake around the world embodied in the goods and services we buy, so by bringing these to light, people can make an informed choice about what they consume and at what cost."
OAASIS's work so far
In collaboration with civil society, industry and due diligence experts, OAASIS is developing an open-access tool that organisations can use to identify modern slavery risk in their supply chains.
The tool will be able to produce an organisation's modern slavery footprint by using modern slavery data and the GLORIA (Global Resource Input-Output Assessment) supply chain database built by ISA at the University of Sydney for the UN International Resource Panel.
Currently, the proof-of-concept visualisation tool includes forced labour data generating a forced labour footprint; and greenhouse gas emissions data generating a carbon footprint, which is included to demonstrate the power of the tool as well as link the concept of a 'modern slavery footprint' to the well-established carbon footprint. Funding has been secured for data collection to continue throughout 2023. However further funding is being sought to improve data input and overall accessibility.
By using this tool, organisations can easily identify in which country and sector of the economy the greatest risks of modern slavery are likely to be, reducing enormously the task of identifying and therefore addressing modern slavery in the supply chain.
In the long term, this tool is expected to have a considerable impact on identifying hidden modern slavery risks in a company's supply chain. Knowing where to look saves time, effort and money that instead can be used to address the problem on the ground. 
According to Anti-Slavery Australia Director, Professor Jennifer Burn, data equity is at the heart of this tool.
"By providing a free and open-source tool for everyone to use, the tool will level the playing field, and provide all reporting entities, businesses and organisations with equal access to modern slavery supply chain risk information, that is both accessible and company specific.
"The OAASIS project's commitment to making this tool publicly and freely available, is truly remarkable and commendable," said Professor Burn.
Republished from USYD news