The Professor Walter Stibbs Lectureship commemorates the achievements of Professor Stibbs through an annual lecture by a distinguished astronomer of international standing.
---
2021: A Cosmic Perspective: Searching for Aliens, Finding Ourselves
An online lecture presented by Dr Jill Tarter, SETI Institute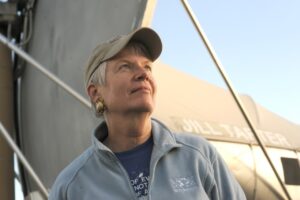 Are we alone?
Humans have been asking this question throughout history.  We want to know where we came from, how we fit into the cosmos, and where we are going.  We want to know whether there is life beyond the Earth and whether any of it is intelligent. 
Since the middle of the twentieth century we have had tools that permit us to embark on a scientific exploration to try to answer this old question.  We no longer have to ask the priests and philosophers what we should believe about extra-terrestrial life; we can explore and discover what's actually out there. Our tools are getting ever better.  We have discovered extremophiles in the most unexpected places on this planet and we have discovered that there really are far more planets than stars out there.  We haven't yet found life beyond Earth, but there is currently a debate about the detection of Phosphine in the clouds of Venus, and whether this might imply biology. There is a vast amount of other potentially-habitable real estate to explore beyond our solar system, and there are many plans to do just that. The 21st century will be the century in which we will find some answers, this will be your century.
As we look up and look out, we are forced to see ourselves from a cosmic perspective; a perspective that shows us as all the same, all Earthlings.  This perspective is fundamental to finding a way to sustain life on Earth for the long future.
Thursday 29 July; 4.00pm – 5.30pm via Zoom Webinar
About the Speaker
Jill Tarter is the Emeritus Chair for SETI Research at the SETI Institute in Mountain View, California and serves as a member of the Board of Trustees for that institution.
Tarter received her Bachelor of Engineering Physics Degree with Distinction from Cornell University and her Master's Degree and a Ph.D. in Astronomy from the University of California, Berkeley.
She has spent the majority of her professional career attempting to answer the old human question "Are we alone?" by searching for evidence of technological civilizations beyond Earth.
She served as Project Scientist for NASA's SETI program, the High Resolution Microwave Survey and has conducted numerous observational programs at radio observatories worldwide. She is a Fellow of the AAAS, the California Academy of Sciences, and the Explorers Club, she was named one of the Time 100 Most Influential People in the World in 2004, and one of the Time 25 in Space in 2012, received a TED prize in 2009, two public service awards from NASA, multiple awards for communicating science to the public, and has been honoured as a woman in technology. She was the 2014 Jansky Lecturer, and received a Genius Award from Liberty Science Center in 2015. She served as President of the California Academy of Sciences 2015-16. Asteroid 74824 Tarter (1999 TJ16) has been named in her honour. In 2018 she was recognized with the Maria Mitchell Women in Science Award and the Sir Arthur Clarke Innovator's Award, and in 2021 she was elected to the American Academy of Arts and Sciences.
Since the termination of funding for NASA's SETI program in 1993, she has served in a leadership role to design and build the Allen Telescope Array and to secure private funding to continue the exploratory science of SETI. Many people are now familiar with her work as portrayed by Jodie Foster in the movie Contact. Her biography Making Contact was written by Sarah Scoles and published in 2017
2019
July 16th, 2019-Pulsars and the universe by Jocelyn Bell Burnell

About the Speaker
Dame Jocelyn Bell Burnell, a visiting professor of astrophysics at Oxford University.
Her greatest discovery happened in 1967 when she was a postgraduate student at Cambridge University. Using a radio telescope she had helped to build, Jocelyn became the first person to discover pulsars — rotating neutron stars that appear to 'pulse' since the beam of light they emit can only be seen when it faces the Earth. The discovery led to a Nobel Prize for her PhD supervisor, Antony Hewish, and is considered one of the greatest discoveries of the 20th century. Since then Jocelyn has gone on to accomplish a number of other remarkable milestones.
She became the first female president of both the Institute of Physics and the Royal Society of Edinburgh and helped set up the Athena Swan program to advance female participation in science. Last year her work was honoured with one of the world's most prestigious physics prizes – the $A4.3 million Special Breakthrough Prize in Fundamental Physics. She joined a very select group of physicists to receive the prize, including Stephen Hawking.
She was appointed to Dame Commander of the British Empire (CBE) for services to astronomy in 1999, followed by a Dame Commander Order of the British Empire (DBE) in 2007.
2018
June 5th, 2018- The State of the Universe by Brian Schmidt (Australian National University)
About the Speaker
Brian Schmidt is Distinguished Professor of Astronomy and the 12th Vice-Chancellor and President of the Australian National University, having joined the University in 1995. Brian was raised in Montana and Alaska, USA, and received undergraduate degrees in Physics and Astronomy from the University of Arizona in 1989. Under the supervision of Robert Kirshner, he completed his Astronomy Master's degree (1992) and PhD (1993) from Harvard University. In 1994 he and Nick Suntzeff formed the HighZ SN Search team, a group of 20 astronomers on 5 continents who used distant exploding stars to trace the expansion of the Universe back in time. This group's discovery of an accelerating Universe was named Science Magazine's Breakthrough of the Year for 1998. For his work on the accelerating universe, Brian Schmidt was awarded the 2011 Nobel Prize in Physics, jointly with Adam Riess and Saul Perlmutter. He is a Fellow of the Australian Academy of Science, The United States Academy of Science, and Royal Society, In 2013, he was made a Companion of the Order of Australia. Brian also runs Maipenrai Vineyard and Winery, a 2.7 acre vineyard and a small winery in the Canberra District which produces Pinot Noir.
2017
April 11th, 2017 -LIGO, Gravitational Waves, and the Final Ballet of a Pair of Black Holes: The Birth of a New Kind of Astronomy by David Reitze (LIGO Laboratory)

About the Speaker
David Reitze is the Executive Director of the LIGO Laboratory at the Caltech and Professor of Physics at the University of Florid. He is a member of the LIGO Scientific Collaboration that was awarded the 2016 Special Breakthrough Prize in Fundamental Physics and the 2016 Gruber Foundation Cosmology Prize.
2016
April 28th, 2016-A planet for Goldilocks by Dr Natalie Batalha (NASA Ames Research Center and the Mission Scientist for NASA's Kepler Mission)

About the Speaker
Dr Natalie Batalhais an astrophysicist at NASA Ames Research Center and the Mission Scientist for NASA's Kepler Mission. After studying stellar spectroscopy of young, sun-like stars, Dr Batalha has been involved with the Kepler Mission.
In 2011 Dr Batalha was awarded a NASA Public Service Medal for her vision in communicating Kepler science to the public and for outstanding leadership in coordinating the Kepler Science Team. In 2015, Natalie joined the leadership of a new NASA initiative, dedicated to the search for evidence of life beyond the Solar System. NASA's Nexus for Exoplanet System Science (NExSS) brings teams from multiple disciplines together to understand the diversity of worlds.
2015
April 1st, 2015- THE MONSTER AT THE HEART OF OUR GALAXY by Professor Andrea Ghez (UCLA)
About the speaker
Andrea M. Ghez is Professor of Physics & Astronomy and Lauren B. Leichtman & Arthur E. Levine chair in Astrophysics, is one of the world's leading experts in observational astrophysics and heads UCLA's Galactic Center Group. Her ground-breaking work on the center of our Galaxy has led to the best evidence for the existence of supermassive black holes. As recognition of her work, Prof. Ghez has received numerous honour and awards, including the Crafoord Price in Astronomy (first woman to receive this price in any field).
More information can be found on Prof. Ghez's website
2014
May 15th, 2014- CRACKING THE EINSTEIN CODE by Professor Fulvio Melia (University of Arizona)
About the Speaker
Fulvio Melia is Professor of Physics, Astronomy, and Applied Mathematics at the University of Arizona, in Tucson, and John Woodruff Simpson Fellow, a chair formerly held by the Nobel laureate Niels Bohr and noted American Poet Robert Frost. Born in Gorizia, Italy, he was raised in Melbourne and received his BSc and MSc degrees from Melbourne University. He completed his graduate studies at the Massachusetts Institute of Technology, receiving a PhD for research on the physics of strong gravitational and magnetic fields.
Since then, he has been a Presidential Young Investigator, an Alfred P. Sloan Research Fellow, and has been an editor for the Astrophysical Journal and the Astrophysical Journal Letters. He is currently the chief editor for the University of Chicago Theoretical Astrophysics Books Series. He has been a visiting professor at numerous universities in Australia, Asia, and Europe, and has published over 250 journal articles in high-energy astrophysics, including topics on black holes, relativistic matter, and cosmology. He is also the author of six books, most recently Cracking the Einstein Code, the story of how New Zealander Roy Kerr and his colleagues finally managed to find one of the most famous and important solutions to Einstein's equations of general relativity.