SSO – NSW Regional Tourist Activation Fund 
SSO is set to be improved thanks to a grant from the NSW Regional Tourist Activation Fund of $557,120 which, when combined with an RSAA co-contribution, will revitalise the visitor experience by upgrading and enhancing the visitor centre.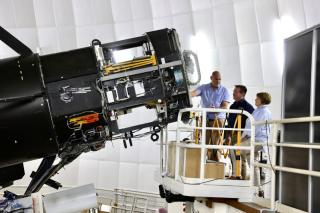 This centre, in conjunction with unique behind the scenes tours, will improve the visitor experience and boost local tourism.  The project includes upgrades to the exploratory with modern, interesting, and interactive exhibits that will promote the science performed at the observatory.  An exploratory deck will provide a covered seating area with views across the Warrumbungle's where visitors can enjoy food and beverage from an enhanced kitchen.  To ensure that families also enjoy the experience, an Astro-themed playground will be installed next to the exploratory to provide a safe play area for small children.
Overall, with these and other enhancements to Siding Spring Observatory, the project will help draw additional visitors to the Warrumbungle region. We are very excited about the impact that the facility upgrade will have in helping us share this unique place with the local indigenous community and visitors from both Australia and overseas, while learning about Astronomy, visiting the Warrumbungle National Park and exploring the region.
On the 20th of Jan, the Deputy Premier, Paul Toole, visited SSO to announce the funding and tour the facilities.
Reposted from ANU SCINEWS